- beetroot salad (Jake)
- tabbouleh (Claire)
- potato soup (Hannah)
- eggs and crumpets and English muffins (Tash and Darius)
- tofu, mushroom and spinach bake (Lena)
- Columbian cornmeal buns (Jose)
- home-made soda bread (Anna)

We had a chocolate hunt in the garden in the rain and then we played several rounds of consequences

I decided to go vegan for Lent just to see if I could. There were a 4/5 slip ups but I basically did it. Today I went to the cafe on the corner and bought a bacon sandwich for breakfast. It was amazing.
(Anti) Easter Pot Luck was fun: Ten friends, one long table, daffodils everywhere. I made pizza, Emma made chocolate nests. The others brought:
Current Music:

Smog- The Well
(
Read more...
Collapse
)
I do like is the tradition of visiting graves in Russia and leaving bits of food (bread, grain or pancakes) and drink (vodka!) for the deceased. I don't know why, I just find it quite moving.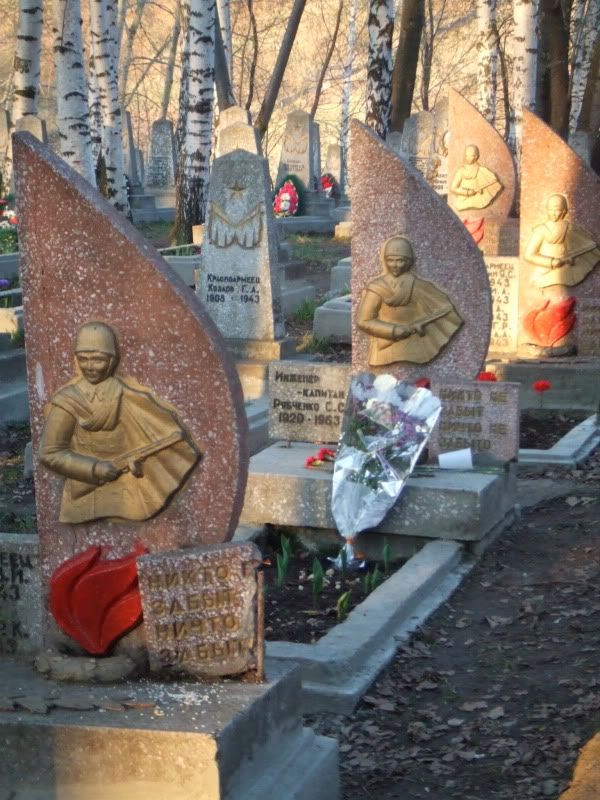 May 9th is Victory Day in Russia, when tanks rumble across Red Square and most cities have mini-parades and everyone seems to go picnicking and get drunk.
Current Music:

Bob Dylan - One More Cup of Coffee


****

This morning I drag myself up at 7 am, after 3 hours sleep, and go to the station to meet Katya. We had planned to take the elektrichka to Kungur to visit the ice-cave. I have never seen an ice cave. Katya, formerly of Kazakhstan and now of Kungur, is very eager to show it to me.

I get to the station, unusually on time. I wait by the ticket office. It's cold. I buy a bulochka.The elektrichka leaves at 8.50. The agreement was to meet 20 minutes before that. At 8.45 I ring Katya.

"Hello?"
"Hello? Katya?"
"Yes?"
"It's Flip."
"Yes?"
"Where are you?"

Pause.

"Oh my God. Oh Flip. Oh my God. What time is it?"

I have woken her up. There is only one morning elektrichka to Kungur every day. So instead, laughing and frozen, I walk to her student dorm building. It's not far from the station across the empty road, over the pot holes, across the roundabout, over the tram tracks. Inside it's warm. Katya greets me at the doorway and we run out to buy tvorog, smetana, kefir, butter and biscuits. Yep, a milk overload. We come back and I hand over my passport, so I can enter the student dormitory. We climb the stairs to her room on the eighth floor. Her roommate is away at her boyfriend's. Some other students pop their heads round the door to chat. I eat tvorog and smetana. I drink kefir. Then I drink tea. I try to read a page from a Soviet history book aloud but I'm laughing too much to do it well.

After this I go to Marina's . Marina gives me a bundle of dried, wild mushrooms to take to St Petersburg. Then I go to Sergei's birthday party.


****

Sergei's birthday party is on the opposite side of the city. It's being held in Olga's flat. Sergei meets me at the market. We catch the tram to Odeovskaya, we get out and climb a hill. Olga is an artist, her flat is on top of the hill and inside it's painted orange and green and blue. She has amazing curtains and rugs. We sit down in the kitchen, Sergei slices bread, I spread butter (lots and lots of butter) and red caviare. Olga makes a rice and vegetable dish. Misha arrives with wine. Then the Austrians arrive with our present which we had planned and bought for Sergei the day before. Then suddenly everyone else seems to be there too.

I leave early and go to Larissa's. She gives me honey to take to St Petersburg.

***

And now in about 20 minutes I need to ring that taxi.
It's nearly 3 am. I am packing for St Petersburg. My train leaves in two hours which means in about 45 minutes I need to ring and book a taxi to the station. After almost a whole week of sunshine the slushfest that was Perm has pretty much dried out. It has become a dust bowl instead. It's still cold; today was -8. I wrapped up Emma's scarf, which she gave me as a goodbye present just before I left Edinburgh, and tucked it into my suitcase. It's grey and woolen and she made it herself. I think I would cry if I lost it.
50 Things To Do Before You Leave Edinburgh

01 Go to an Edinburgh Derby
02 Go to the Castle
03 Go to the New Year Street Party on Princess Street
04 See Scotland play in the 6 Nations at Murrayfield
05 Go to Waverley with £20 and see how far you can get
06 Go to the Edinburgh Dungeons
07 Board Concorde at The Concorde Experience
08 Sledge on Arthur's Seat
09 Visit the Royal Yacht Britannia
10 Have a dinner at the Balmoral Hotel
11 Go to a show at either the Festival Theatre or the Playhouse
12 The Rose Street Pub Crawl
13 Buy something out of Jenners
14 Watch the sunrise from the top of Arthur's Seat
15 Play hide and seek in Ikea
16 Have a ride in a rickshaw
17 Visit Dynamic Earth
18 Go and see a comedy show at Pleasance
19 Go skiing on the dry ski slope
20 Visit The Real St Mary's Close, beneath the City Chambers
21 Go to the Edinburgh Military Tattoo
22 Visit Holyrood Palace
23 Walk across the Forth Road Bridge
24 Go to Deep Sea World
25 Get a train across the Forth Rail Bridge
26 Go and see First Minister's Question Time at the Scottish Parliament
27 Fly anywhere from Edinburgh Airport
28 Go to Edinburgh Zoo
29 Go Ice Skating in Princess Street Gardens
30 Have a night out at the Kings Buildings Union
31 Climb the "7 Hills of Edinburgh"
32 Go to Laser Quest
33 Have a BBQ on the beach at North Berwick
34 Go to a show at the Gilded Balloon (Teviot during the festival)
35 Take a ferry to Inchcolm Island
36 Watch a festival performance in Princess Street Gardens
37 Go bowling at the Sheep's Heid, Duddingston
38 See a film at the Ster Century Cinema, Ocean Terminal
39 Go to the Botanic Gardens
40 Get a letter published in the Metro
41 Go to a concert at the Usher Hall
42 Visit the National Gallery
43 Visit the Royal Museum
44 Have a meal in the Hard Rock Café
45 Play Pitch and Putt on the Bruntsfield Links
46 See a band at the Liquid Rooms
47 Go up the Sir Walter Scott Monument
48 Visit Rosslyn Chapel
49 Go on a tour of the city on an open top bus
50 Have a coffee/tea in the café Harry Potter was written in (Elephant House)
what exactly I expected nothing came to mind. It was big and dusty and the traffic was horrific. Too many tourists (I couldn't get near the Trevi Fountain or into the Pantheon, we tried to visit the Sistine chapel twice before giving up...the longest queues there I have ever seen in my short little life.) Big grand buildings everywhere, a lovely Old Town with winding cobbled streets, incredible ice-cream, no tall unsightly modern buildings from the hill-top views...until you're driving out in the suburbs and see a really different story. The second time we couldn't get into the Vatican Museums we decided to escape the city for the day and took the train out to Ostia, the awesomely preserved Roman town conveniently situated 30 mins away. (Better than the Roman Forum, better preserved, prettier and less busy.)

Our nun-run hostel was less than 10 mins away from the Vatican and we ended up seeing the Pope twice - once on the way back from dinner on Good Friday when he drove past us in his car and waved, the second time on Easter Sunday when we got tickets to the Sunday Mass in St Peter's Square. It was the first time I've been to mass in about five years. I felt like a bit of a fraud; don't really believe in any of it, have big problems with the Church doctrine. And yet still it was very cool; more chaotic than expected, thousands and thousands of people from all over the world crammed around us, really beautiful choir music (including an amazing group of Russian monks) and in the midst of it all there was His Holiness himself sitting up front, pretty frail and croaky, benignly looking down on everyone. A bit creepy.

Home: catching up with Paul Newman films, trying to make a start on de-cluttering my dusty junk-filled room, email email emailing so many people (Alison wrote from Novgorod university: You are like a mini celebrity here which is just the sort of stuff I like to read in emails.)

Came back yesterday. Edinburgh was blooming and beautiful and sunny. Chas and I walked up/over/down/around Arthur's Seat for two hours, following a troop of nuns. Today the weather's reversed and there is phenomenal mist everywhere. Zulekha called it'haar.' Alex came home. We had a cheap picnic in a pantry (flaky sausage rolls, juice, reduced chocolate cake, grapes.) I laid out a blanket on the floor, put up an umbrella, Mo said 'what the fuck?' and tried not to laugh.
Rome is great. It wasn't what I expected, but then when I tried to think of
Current Location:

room

Current Music:

If Looks Could Kill - Camera Obscura


- Cocktails on Friday (one Sledghammer, one Sloth, one Envy)
- Film editing on Saturday
- Filming on Sunday (now all done)

Inbetween we watched the entire El Mariachi trilogy (sillier and sexier as it goes along) and I read Tolstoy.
The Weekend Just Gone:
I love the new Dylan album.
yay!
and
yay!
Secondly - a belated Happy St Andrew's Day to everyone. Ours involved ceilidhs, oatcakes and
Buckfast
. It tastes like Passover wine.
Thirdly - I saw
Shortbus
on Friday afternoon at the Filmhouse (everyone should go - before 4pm it's £1.80 for students!)
Shortbus
(by the guy who did
Hedwig and the Angry Inch
) was the film that created a bit of a stir at Cannes because it's full of graphic un-simulated sex and is the most explicit film to have come out of America since I don't know what. I wondered a tad nervously if it would just be me and a bunch of weird old men in the cinema but actually it was really cool. A good third of the audience were female, lots were students and there were quite a few men and women who were well over sixty. (I shouldn't have been so surprised. Why shouldn't old people watch sex?) Anyway, the film was much better than I thought it would be - really funny and moving and the sex was, well, just sex. I don't think it was gratuitous. (There's a funny thread on IMDB where people are having huge arguments over whether it's a porn film or not. I don't think it is.) You should go see it. I felt I could have taken friends along with me (well, friends who aren't prudish about watching orgies.)
Fourthly - it's weird to think that all classes are over and I have my exam next week and then first semester's finished. On Saturday I met up with other people in
the awesome Favorit to have midnight cake and coffee and play Scrabble
and say goodbye to Alison who is heading home to New York. I'd like to go to New York too.
Firstly -
Current Music:

Eskimo Joe - Comfort You